Permanently Restore Your Smile with Dental Implants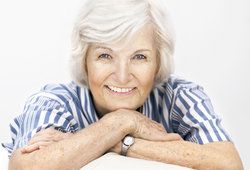 Enjoy the best support for your crowns, bridges, and dentures with a dental implants procedure from Dr. Chad LaCour of Baton Rouge, LA. By affixing one or more implant posts in your jawbone, he will provide a strong and durable base for your restoration. Dr. LaCour will use sophisticated imaging to determine the most precise positions for your implants. He can also perform advanced preparatory procedures to improve your candidacy for treatment. Come benefit from Dr. LaCour's years of experience and careful treatment planning. Contact our office today to learn more about implants and whether they are good option for you.
Restorative Options to Meet Your Needs
Implants are made of biocompatible titanium. Once Dr. LaCour places the tiny posts inside your jawbone, they will fuse with the surrounding bone cells. Then he can attach a custom-designed restoration. Dr. LaCour can use these restorations to replace one tooth, several teeth, or your whole dental arch. To restore one tooth, he will implant a single metal post, and he will top it with a custom-designed dental crown. If you are missing several teeth, he will typically position two implant posts and attach a dental bridge. To provide an implant-supported denture, he will place four or more implant posts. Your denture can be fixed or removable (overdenture).
Planning for Dental Implants
In addition to choosing the right type of restoration for your smile, Dr. LaCour will also plan out the most suitable placement for your implants. He will take pictures of your jawbone using our iCAT® machine and computed tomography (CT) scans. The 3-D digital images will help him identify the strongest areas of your jawbone and place the implants with minimal impact to the surrounding bone.
Implant Placement and Restoration
On the day of your surgery, Dr. LaCour will numb your gums and jawbone. We also offer nitrous oxide and oral conscious sedation. He will help you choose the right sedation for your needs. Then the dentist will create tiny incisions in your gums, allowing access to the jaw so he can insert the implants. He uses the BioHorizons® tapered implant system. Its innovative design will enable him to preserve more of your bone structure and, at the same time, provide a stable base for your restoration.
It will usually take four to six months for your jawbone to heal around the implants. During the healing process, Dr. LaCour can attach a provisional restoration to maintain your bite's function and appearance. Following your recovery, he will affix the permanent restoration to the tops of your implant posts.
Why Choose Implants?
Overwhelmingly, experts agree that implants are the most beneficial method of tooth replacement. Although they are more expensive than other options, implants offer many advantages that no other restoration can provide:
Because implants are permanently fixed in your jaw, your restoration will never slip out of place, even when you are eating or speaking.
When you maintain proper dental hygiene, your implants could last the rest of your life.
Your implant-supported restoration will sit right along your gum line, so it will look highly lifelike.
Implants will prevent jawbone recession, a common side effect of tooth loss. Sometimes they can even restore lost bone.
Are You a Dental Implants Candidate?
You must have enough jawbone volume to provide a strong base for dental implants. However, if you have been missing teeth for an extended amount of time, your bone may have shrunk significantly. Fortunately, Dr. LaCour can perform bone grafting and sinus lifts to build up your jaw structure. He takes a conservative approach, and he will never recommend additional surgery unless it is absolutely necessary.
Your overall oral and physical health will also determine your candidacy for implants. If you have advanced gum disease or an autoimmune disorder that makes surgery inadvisable, Dr. LaCour will recommend a more appropriate restoration.
Schedule a Consultation to Learn More
To learn more about whether you are a candidate for dental implants, contact Dr. LaCour's office today.